Safety as Standard
All stairlifts have a range of safety sensors on the power pack and footplate: these are designed to stop the lift if it meets any obstruction. Once stopped it can only be moved in the opposite direction away from the obstruction. All stairlifts have a diagnostic display so that you can monitor the status of your stairlift, for example, if a safety edge has been activated. Your stairlift has a retractable seat belt for added security and peace of mind.
Smooth & Quiet
Because of the high quality motors we use in our stairlifts, we offer the quietest and smoothest stairlift ride available. All backed by a lifetime gearbox and motor guarantee.
Easy to Use
The operating toggle is easy to use, simply hold it towards the direction you wish to travel, up or down, and your stairlift will move smoothly and gently on its way. The control is conveniently located at the end of the arm leaving both arms clear to provide unhindered support when getting on or off the seat.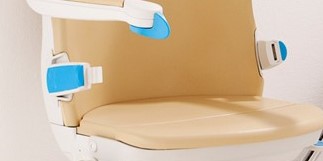 QUALITY AND AFFORDABILITY
With all of the standard features of the 1000 straight stairlift, the 1000XXL provides users with a heavier duty model to accommodate wider frames and a weight capacity of 440lbs – all while still ensuring your comfort and safety are still priority.
Despite its heavier capacity, the 1000XXL straight stairlift runs on a slim and compact track to maximize space on your staircase. The seat and footrest easily folds up when not in use so other family members can access the stairs.
Your 1000XXL stairlift will include two remotes to allow you to send for the stairlift when not riding the lift. This is convenient for homes with multiple users or if you simply prefer to use the remote instead of the provided toggle control.
Available Option(s):
Body Harness: For those who may require extra support and stability as they ride the stairlift
Powered Swivel Seat: When you arrive at the top of the stairs, you will need to swivel your seat round so that you exit onto the landing safely
Powered Footrest: This option removes the need for you to bend down to fold or unfold the footrest
Features:
Weight limit: 440lbs
Multiple charging points
Foldup seat, footrest and armrests save space for other stair users
Safety sensors immediately stop the lift if anything is detected in its path
Adjustable seat height ensures the perfect fit for each user
Manual swivel seat for safer transfer onto and off of the lift
Move silently and gently with a soft start/stop
Key switch prevents unauthorized use
Large, carpeted footrest provides more traction
Manual emergency stop
Two remote controls included
Retractable seat belt included
DC plug-in power
Battery back-up in the event of power outage
MORE SPECS HERE
call for more information 978-537-3498
covid-19 update: we are taking every precaution to keep our clients and employees safe.

Read more...
covid-19 update: we are taking every precaution to keep our clients and employees safe.

Read more...